Decription:
Micah was rescued within an hour of birth and has been raised here on the ranch the horses own. His mother, Angelica, was one of several mares we rescued from slaughter. Despite her mothers abuse and neglect, Micah is a healthy beautiful gelding with a darling personality. He will be starting under saddle training Spring 2019. He is best friends to Maverick.
Facebook Welcome:
We say no dozens of times a month, it is always with deep regret, sorrow, and a fair share of spilled and swallowed tears. Wednesday we said yes, because in saying no, we would not b…e able to close our eyes last night or in the nights to follow… ..and we would be unable to focus our eyes on our reflection in the mirror this morning. In foaling her colt, Angelica received a death sentence, and was to be shipped to slaughter within a few months, IF Micah survived, he would be almost certainly guaranteed a tortured life. We are rescuers, and in keeping with our commitment to saving and serving, we stretch ourselves in contorted and often unrealistic ways….because the horses deserve it, and we can not turn our backs. We are grateful to be able to do our meaningful work, and very grateful for those who make it possible through charitable donations and acts of loving humanity. Red Bucket is not funded for this year, and had a very large and necessary donation fall through the cracks. We would be most grateful if you would cross post and help spread the word….our meaningful work is only possible because of you. Thank you for all of your support, generosity, and loving humanity.
Facebook Update: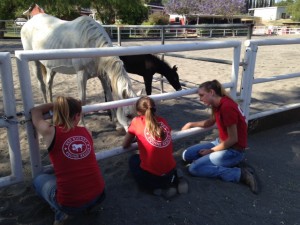 With four newly minted and perfectly healthy little foals scampering, playing, bucking, and frolicking around Red Bucket, it is easy to get lost in all that adorable fun. McGarrah, Kami, Micah, and Mathe are completely distracting during their waking hours, and when they are curled up (or in Mathe's case completely stretched out) they have the ability to completely derail our entire operation, as we cannot take our eyes off of what has presented itself to us as a miracle. We are however reminded of perhaps what is even more magical…their mothers who have endured terror, starvation, and the horrors of impending slaughter to
deliver, nurture…and love their babies. Yes, we have a tremendous commitment to these foals, who will never know the unspeakable abuse that their mothers survived in order to bring them life, and we will remain supremely dedicated to these glorious mares who demonstrate devotion at a level that is spellbinding. Red Bucket celebrates Darcy, Marlee, Angelica, Darcey, and little orphan Roulettes mother…wherever she might be.