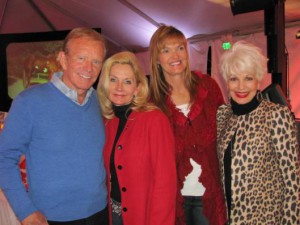 Not until I attended Red Bucket Equine Rescue's "Ruby Red Fundraiser" and met Susan Peirce did I truly realize what wonderful human beings there are in this world. Peirce singlehandedly saved a cadre of horses from sure starvation and the slaughter house in 2008 and since then has worked for no pay and gathered volunteers around her who are as committed as she is to saving these wonderful horses. The statistics are impressive: 201 rescued horses, with 88 horses adopted out so far. From the beginning, Peirce gave each horse she rescued a name and its own red bucket, thus Red Bucket Equine Rescue was born.
The 270 guests attending Red Bucket's inaugural fundraiser, held at Red Bucket Ranch in Chino Hills, were invited to tour the ranch and see the horses who have been rescued. I was lucky to have as my guide Red Bucket's first volunteer, Mary Jane Blakeslee. She knew each horse's history, and believe me, they were grim stories. But, the horses were neighing and pawing, eating and drinking and so, so happy to be there. Finbar, a descendant of racing legend Secretariat, who was found among 42 starving Irish thoroughbreds in a San Bernardino stable in 2009, had a photo of him posted on the barn, which showed him when he arrived, emaciated with his ribs sticking out (see photo). It just broke my heart to see it. But, the horse I saw in the barnyard was healthy and happy and nudging his best friend, Mr. Rogers, a donkey!
The silent auction featured a lot of horse memorabilia, and a "Giving Tree," (it was close to Christmas) had ornaments with photos of the rescued horses for guests to choose to help feed for a month, board for a year, etc. King's Seafood catered the affair, offering a variety of tasty entrees and side dishes, while the "Red Bucket Martini" was quite the rave. American television and radio personality Bob Eubanks, famous for hosting the game show, The Newlywed Game, was the event's keynote speaker and master of ceremonies. He may be a little older, but that deep, booming voice is still intact. He entertained the crowd with hilarious stories from the long-running show.
Red Bucket board member and well-known equine attorney Bing Bush, Jr. introduced Peirce and lauded her determined efforts in founding Red Bucket and its mission in rescuing horses. Peirce thanked Fairlie Arrow for raising the money and producing the heartwarming Red Bucket video shown at the benefit. Peirce also recognized people who have been instrumental in the nonprofit's success. They included CeCe and Randall Presley, who were responsible for providing the main funds to purchase the ranch in 2012. Cece, unable to attend because of a death in the family, told Peirce she would provide a $50,000 matching grant for funds raised at the benefit in order to pay the $100,000 payment due on the ranch by December 31st. Others recognized included veterinary equine specialist and surgeon Dr. Barrie Grant, Linda Tachdjian of Diamond Honda for purchasing two horse trailers for Red Bucket, friends and donors Melvin and Allison Reynolds, who whom the 181st horse rescued was named Reynolds, Julie Shields for rescuing Nikki, Jessie Coker, who shoes the horses, and Tony Cruz, for taking care of the ranch. Finally, Peirce thanked Dave and Susan Knox, "who have been selfless in support of our work," she said. "We wouldn't have had a brochure or pamphlet if not for Susan."
The band, Shot Gun Wedding, which included Arrow, also a gifted singer, and lead singer/guitarist David Tyson, brought down the house with their country with a dose of rock music. The band performed "Second Chance," which Tyson composed, in honor of Red Bucket's mission.
The good news? The Ruby Red fundraiser, together with Presley's $50,000 matching grant and live and silent auction monies, netted $135,000, more than enough for the payment. Hear, Hear!