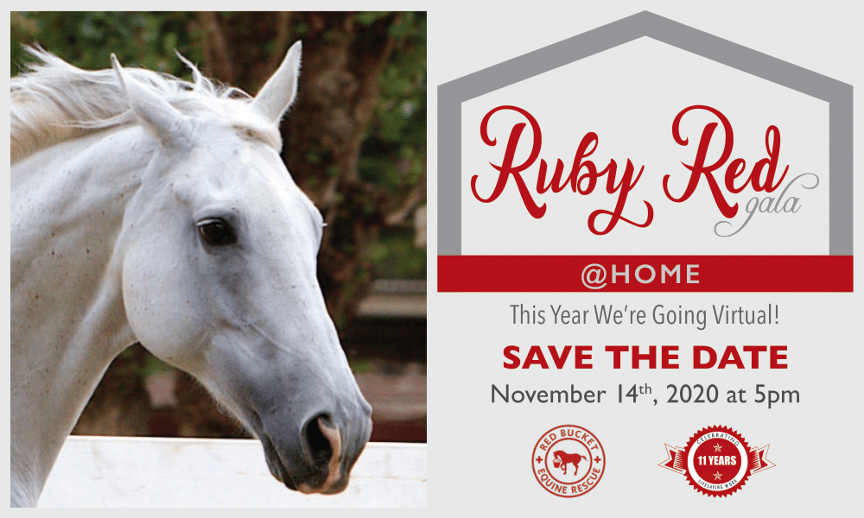 ---
Join Us for Ruby Red @Home
---
While these unprecedented times call for us to be socially distanced, the survival of our lifesaving work is counting on us to stay emotionally connected and ensure that our horses are not forgotten.
We are still reminded daily that unspeakable abuse, neglect, and starvation are a tragic reality. In fact, the needs of the suffering and unwanted increase significantly during times of crisis and adversity.
In keeping with our tradition of breaking bread with you, we invite you to join us and this year move from beyond the tent...into your homes and your hearts.
---
Together, we can have an impenetrable impact on equine welfare!
---
How can you Make a Difference?
Become a Sponsor
Sponsor our Ruby Red @Home event! We're going virtual...which means, no tickets, no tables, no uber, no childcare, and...no new outfit needed! Our humble ask is for a compassionate gift of sponsorship that will safeguard us during this time of extraordinary hardship.
Support our Amazon Gift Card Drive
Are you a member of a school, club or group? Interested in donating an item for our auction? Better yet, participate in our Amazon Gift Card Drive and our team of personal shoppers will do the rest!
Donate an Auction Item
Do you know anyone who would be interested in donating a unique item? Interested in supporting our lifesaving work while supporting local businesses? We're graciously accepting in-kind donations for our Ruby Red @Home event! Our most popular items include...unique equestrian-themed items, fine dining gift cards, sports memorabilia, at-home experiences & gifts, wine, spirits and much more!
Follow Us on Social Media
Together we can be the Voice for the Voiceless! Follow us on Facebook and Instagram - Please like, comment, and share!
For sponsorship opportunities and more information, please email us at events@redbucketrescue.org!
---
Stay Tuned for More Details!
This year we are moving beyond the tent and extending our hands not just across the table but across the nation.
Watch our livestream program on November 14th @ 5pm